Taking Apart Top of the Marketing Funnel
The marketing funnel or conversion/purchase funnel is a well-known marketing model that content marketers are familiar with and use in some shape or form.
What I want to talk about in this post are multiple levels of the first part of the funnel and how to organize your blog content in such a way that you lead more people to the middle of it. If you're a SaaS content marketer, read on 😀
Starting with the basics
Here's our basic model: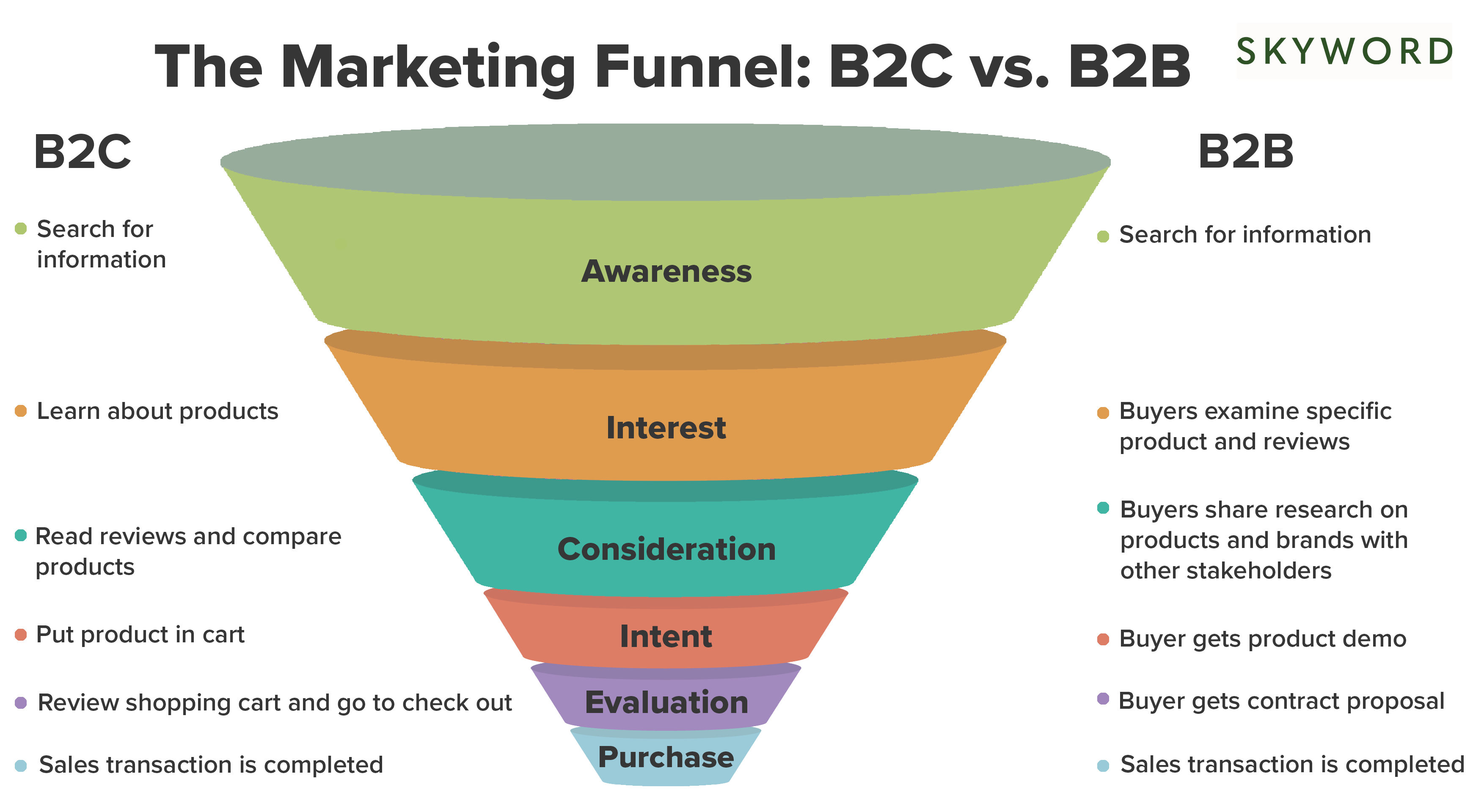 The first stage or the awareness stage talks about searching for information.
If you're into B2B SaaS, you may want to look at it from the perspective of Pirate Metrics. In that AAARRR case, you'll need to have the Acquisition phase in mind.
Regardless of the metric model you're used to, the principles I'll write about remain the same. The purpose of the top of the funnel content is to reach enough people and get them to explore other pages deeper in the funnel, e.g. Features/Case studies/Docs/Pricing.
Getting started with content? Just start your blog!
After reading so much about the theory of the customer journey and the marketing funnel, you may think that you need more than just a few things to start your content marketing journey. The truth is that the earlier you start, the better.
In reality, you can accomplish a lot of things with blog content only, without organizing webinars, preparing case studies, or doing podcasts. You can drive your customers through all the stages effectively if you understand your audience well enough.
The core of an effective content marketing strategy is an efficient blog that pushes content on a weekly basis, and everything else is nice to have. You don't need to grow your newsletter in the first week of your content marketing journey. Make sure you have a performant blog, and add things around it over time.
Multiple stages of the Top of the Funnel
One of the most common mistakes people in content make is that they produce general content for their target audience and consider that to be enough to cover the top of the funnel. From there, they go heavily into mid-funnel stuff and expect potential buyers to follow them.
How I see the top of the funnel is a bit different. I'd split it into 3 parts:
Absolute top of the funnel
Top of the funnel
Almost middle of the funnel
Absolute top of the funnel
I've noticed that people tend to push a lot of the content in this area. Anything that would be of interest to their audience, they want to have it covered on their blog. However, this is a really big net to cast, and you may reach a lot of potential customers with it, but guiding them down the funnel may be more difficult.
These topics are often very generic and covered by thousands before.
To speak in examples, if you are working on a SaaS that's being used by developers, you'd want to write about "New ways of using Git".
This may be a topic of interest for any developer out there since Git is a tool used by all types of developers worldwide. Since it's so far-fetched from your product, it's highly likely that the reader will just be interested in what you have to say there and that they will just drop off from your website without any desire to learn more about you and your service.
Another reason why so many marketers start here is because it's very easy to find people who can write about these topics. They don't need to be experts in this field, only good researchers.
I tend not to publish any blog posts in this area unless I spot some potential in the topic or if they come from our team members.
Top of the funnel
This is a sweet spot where you'd want to write about things that your customers are thinking about while using your product, or before looking for services you're providing. For this stage, think about various clusters of topics that in one way or another touch your product.
For example, if you are working for a SaaS that offers performance and error monitoring (like I do), write about performance issues in such a way that your potential user would be delighted. Here's an example post.
Find people who are experienced in their fields and let them share their knowledge with your readers and existing customers. Don't try to get generic content writers to produce content, find a consultant, or any other expert, and invest in them. These people don't need to know how your product works, they just need to be a type of person who could use your product and has extensive background working in that specific field.
If you look at how these topics perform, you'll notice that you'll get more people to explore your website after reading them.
Mind you, in this stage, you should not drop any mentions of your product, that is for the next stage.
Almost middle of the funnel
In this stage you want to have a topic that is:
Very close to the service you're providing
Beneficial to people who don't use your product as well as to those who do
Showcasing your product in action
For example, in case your product provides developers with some important metrics (like AppSignal), you can write about those metrics in general and manual ways of getting them as well as what they mean. In the last part of the post, show what those metrics look like in the product itself. Here's an example post.
The best way to get people interested in your product is to get to them in a stage where they have the issues your product is solving and also showcase your product in a non-pushy way.
For these posts, you need someone from the team to either write the post themselves or help the external author with it. In some cases, you can even give sponsored accounts to the external authors, and as they explore your product, they can propose article ideas on their own.
Rounding off
Here's a rough summary of the points above:
From my experience, balancing between the second and the third stage brings the most benefits for your top-of-the-funnel strategy. To measure this, go to:
Google Analytics -> Behavior -> All pages -> Blog post you want to inspect -> Navigation summary
and look at the next steps from those pages. Where are your readers going to? Your homepage? Nice work 😁
Pro tip: To make these clicks visible for all the posts you've published, find yourself a data analyst who can generate those reports for you.
Thanks for reading!